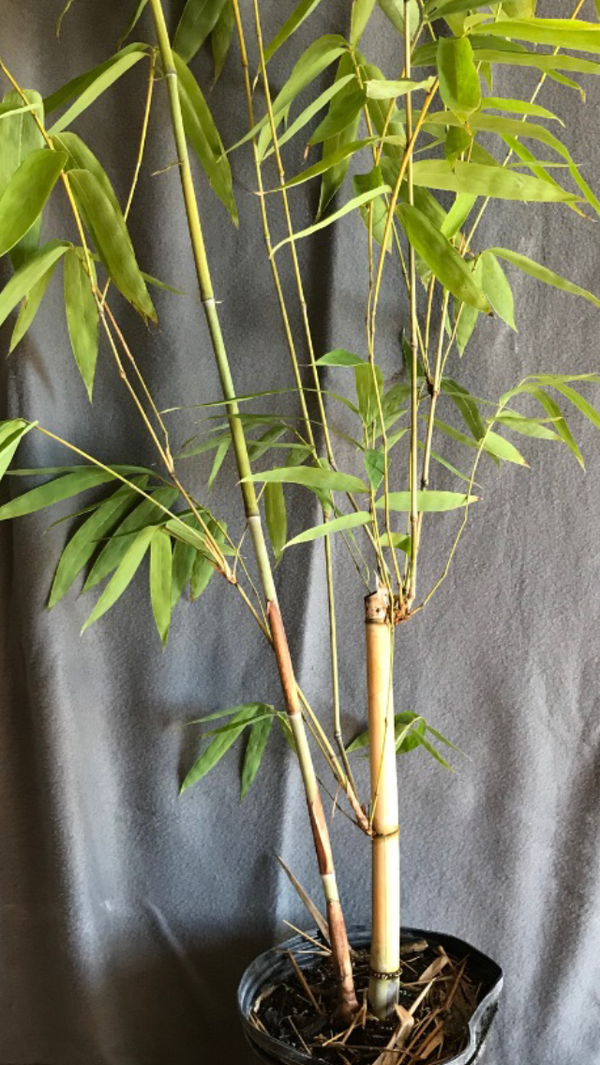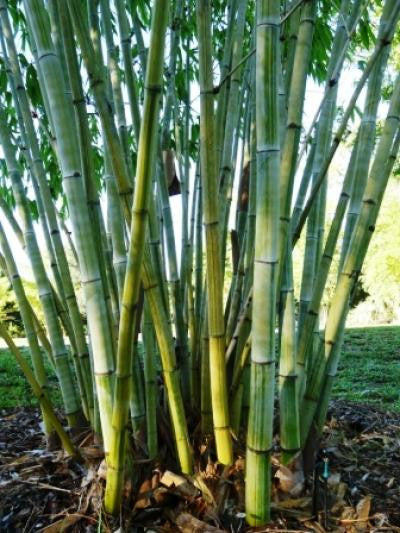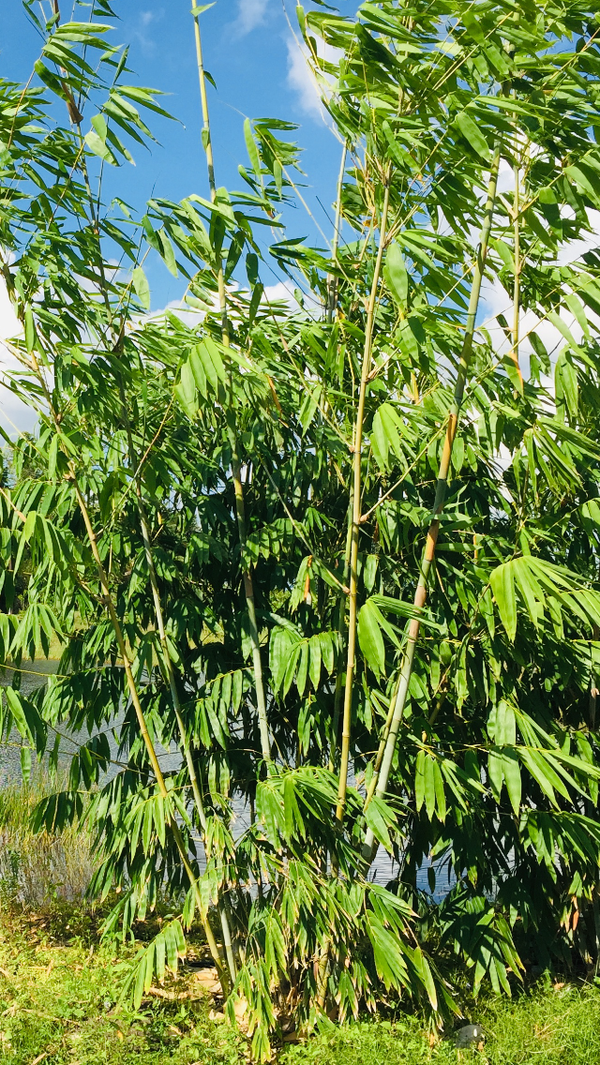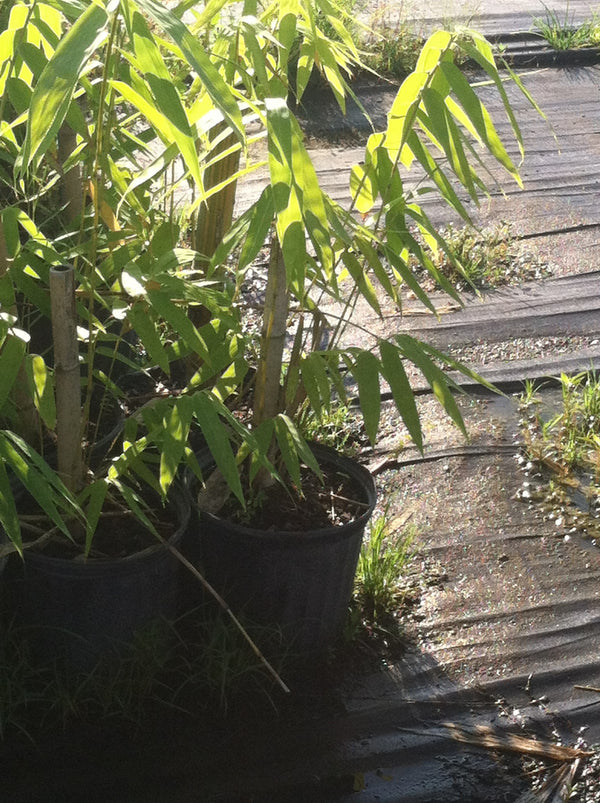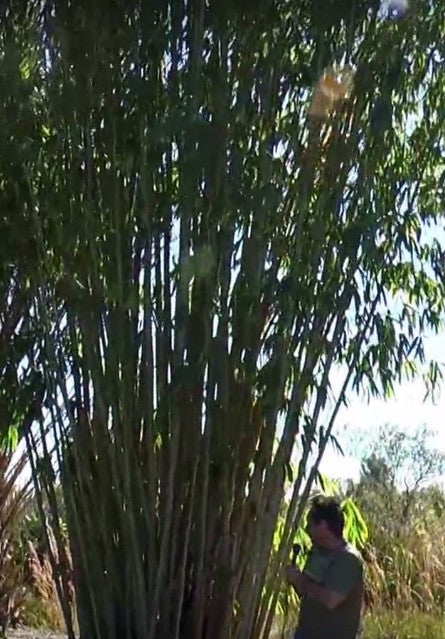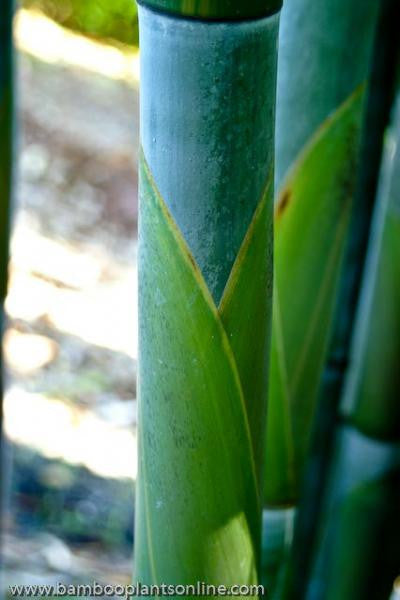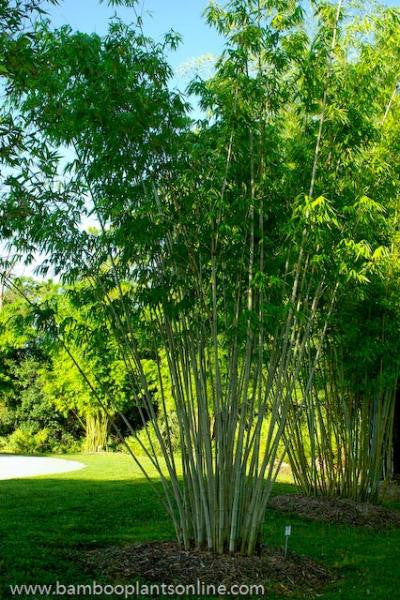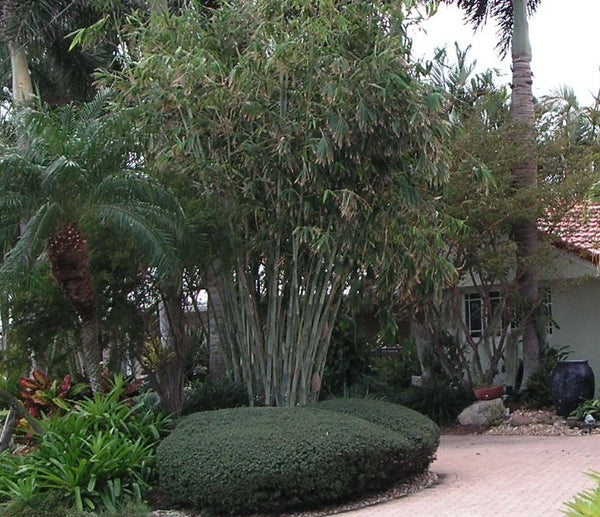 Botanical Name:  Dendrocalamus Minor Amoenus
Common Name:  D Minor, Angel Mist Bamboo Plants, Ghost Bamboo
Maximum Height:  30 - 40' (Average is 35')
Maximum Culm Diameter:  3"
Minimum Temperature: 26F
*Please respect the minimum temperatures. If the temps dip below the minimum temps for just a few hours the bamboo will suffer severe damage. Most importantly, it will stunt the bamboos long term growth! PLEASE order the right bamboo for your climate. Do it right the first time and you'll love the results!
Light: Full Sun, Sun to Partial Shade, Light Shade
Water Requirements: Water regularly. Keep soil moist, but don't allow to dry out between waterings.
Spacing: 6 - 10'
Growth Expectations:
| | | |
| --- | --- | --- |
| Year | Height | Culm Diameter |
| 1 | Up to 8 feet | Up to 2 inches |
| 2 | Up to 20 feet | Up to 2 1/2 inches |
| 3 | Up to 30+ feet | Up to 3 inches |
Product Size:  Beautiful, healthy 3 gallon potted bamboos that are well-rooted and ready to grow.
Angel Mist Bamboo
Angel Mist Bamboo, also known as Ghost Bamboo, is a stunning ornamental variety of clumping bamboo. The origin of Dendrocalamus bamboo family is Southern China. It is virtually identical to Ghost Bamboo commonly found in Australia but has green canes. While it is one of the 'giant bamboo' varieties, Angel Mist is actually one of the smallest of the giants. In addition, one of its most striking features is the colorful culms that it produces.
Shoots emerge covered in a waxy powder that provides a beautiful blue look. Canes eventually mature into an olive yellow color with dark green striping. Growing in a tight clump, Angel Mist Bamboo features large dark green leaves that emphasize its status as a giant bamboo. In addition, the leaves are fairly tolerant to wind. However, the mature plant has no lower branches, thus making it a perfect specimen for a walkway or smaller urban garden. Over time, it will create an impressive green canopy.
Angel Mist bamboo is the most desirable Amoenus variety, especially since it is suitable for many landscapes. Out of the Dendrocalamus family, not only is Angel Mist one of the smallest, but it is also one of the most frost tolerant. Once established, it also has a good drought tolerance.
Growth Expectations
Like most bamboo plants, Angel Mist is an extremely fast grower. They typically reach full maturity in as little as 2 to 3 years, with an average height of 35 feet. Also known as Ghost Bamboo, they grow in large, circular clumps that average 4 to 6 feet in diameter. While this bamboo is the smallest of the giants, it is considered a midsized bamboo. The culms are fat and colorful, and emerge at 2 to 3 inches in diameter.
Uses
This is one of the most attractive clumping bamboo plants that we have in our collection, it is also greatly versatile. When spaced on 10 foot centers, it creates an amazing privacy screen or living wall. You can adjust the spacing to fit your personal tastes. A little further than 10 foot apart will provide you with a screen that does not entirely obstruct your view, while spacing them closer together will provide you with more privacy.
Ghost Bamboo is remarkably well behaved and can be thinned, trimmed and pruned to fit a wide variety of applications, especially where something captivating and unusual is desired. This is what makes it such a highly sought after centerpiece. Whether you are using it as a privacy screen, bamboo hedge, focal point or centerpiece, this is one bamboo that you will not be disappointed with.
Unique Attributes
Angel Mist bamboo has many unique properties, however, it is most well-known for its powdery blue shoots and large tropical leaves. In addition, the lower half of the culms has relatively few branches, while the upper half features a canopy of beautiful foliage. This growth pattern allows you to marvel at the light blue shoots that mature into a beautiful lime green color, while enjoying the shade and aesthetic appeal of the tropical foliage.
Care
Once established, Angel mist bamboo requires little care other than periodic fertilizer. However, it is important to water it periodically during times of drought. Among its many unique attributes, this bamboo will let you know when it is getting thirsty by drooping its leaves. As a testament to its hardiness, I have personally seen this bamboo get so dry that it has completely lost all of its leaves, only to have the entire canopy refoliated within 10 days.

Current batch of 3 gallon Angel Mist Bamboo pictured below: