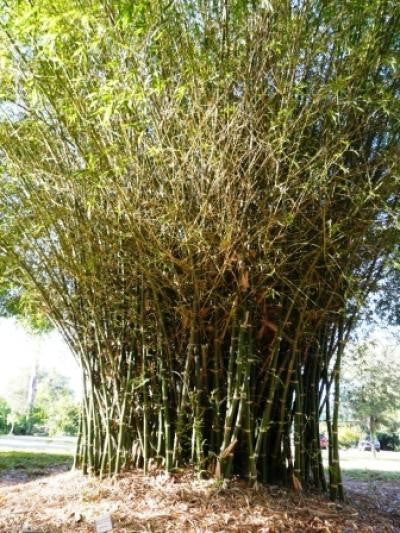 Botanical Name:  Bambusa tuldoides Ventricosa
Common Name:  Giant Buddha's Belly or Buddha Belly Bamboo
Maximum Height:  55' (Potted: averages around 8-15 feet tall)
Maximum Culm Diameter:  2 1/4"
Minimum Temperature: 18F
*Please respect the minimum temperatures. If the temps dip below the minimum temps for just a few hours the bamboo will suffer severe damage. Most importantly, it will stunt the bamboos long term growth! PLEASE order the right bamboo for your climate. Do it right the first time and you'll love the results!
Light:  Full sun to partial shade
Clump Size: 15'
Spacing: 15-20'
Water Requirements: Average. Water regularly, but don't over water. To get it to belly out it needs water stress.
Growth Expectations:
| | | |
| --- | --- | --- |
|  Year | Height | Culm Diameter |
| 1 | 6-8 feet | up to 1 1/2 inches |
| 2 | 12-16 feet | up to 2 inches |
| 3 | 25+ feet | up to 2 1/4 inches |
Product size: 3 gallon well-rooted plants that are 5+ feet tall. (Note: The plant may be trimmed for shipping purposes.)
 WARNING: If you want a giant plant in the landscape, or a great strong bamboo for containers, this is for you. If you want a buddha belly that bellies easily in the landscape, get Dwarf buddha belly Wamin
Buddha's Belly Bamboo, or Bambusa Ventricosa, is one of the most popular ornamental bamboos for collectors. It is most well-known for its unique tendency to have bulging culms, or bellies, that are directly influenced by the plant's water stress. However, it is also renowned for its ability to adapt to any number of growing conditions.
Appearance
Buddha's Belly bamboo is a strong and hardy bamboo. When planted in-ground this bamboo not only grows amazingly fast, but big as well. This bamboo is a signature piece for any Asian inspired garden or tropical design themes. Featuring yellowish-green to green culms and a thick foliage, Giant Buddha's Belly bamboo is most well-known for its zig-zagging and bulging culms. Unlike most bamboo varieties, Bambusa Ventricosa tends to grow culms that zig-zag. However, it will also produce straight culms, which should be pruned in order to prevent the plant from resorting to its natural and uncultivated state.
When Giant Buddha Belly is stressed for water, the culms become engorged, or begin to 'belly out'. Many people have created an art form of carefully stressing this bamboo for water in order to achieve optimum bellies. While it is easiest to keep outdoors, this versatile bamboo is highly adaptable to a wide range of growing conditions and makes for an excellent bonsai or potted specimen (whether indoors or out).
Creating A Privacy Screen With Giant Buddha Belly
Giant Buddha's Belly Bamboo is one of the best choices for a bamboo privacy screen that there is. This large ornamental bamboo is very well behaved and grows in clumps that are up to 15 feet in diameter and over 55 feet tall (under optimal conditions). On average, Bambusa Ventricosa tends to stand around 40+ feet at full maturity (which only takes 3 to 5 years). For those who have a large area to fill, this bamboo is the Grower's Choice for screening, windbreaks, barriers and ornamental specimens.
When creating a privacy screen using Giant Buddha Belly, it is important to remember that they should be planted 15 to 20 apart. This ensures that they have plenty of space to stretch out their roots without becoming over-crowded. In addition, they can adapt to a variety of light and soil conditions. When planting outdoors, it is recommended to plant during early spring, late fall or winter, so that the bamboo can have plenty of time to establish its root system before its first shooting season.
Growing Bambusa Ventricosa Indoors & In Pots
This highly adaptable collector's bamboo can adjust to nearly any lighting conditions, and is also an excellent choice for a potted bamboo (indoors and out). When grown in containers, Giant Buddha Belly will not reach its maximum growth potential. In fact, it will remain about the same size as a Dwarf Buddha Belly averaging around 8 to 16 feet tall.
Ventricosa Buddha Belly Bamboo is a great specimen for a small indoor plant or bonsai. Out of all the bamboo varieties we carry, this is one of the most highly adaptable and versatile in our collection. Whether you are planning to use it as a large, potted bamboo specimen or intending to keep it in a small, indoor container where it can be artfully starved for the 'belly' effect, this is one bamboo that you will not be disappointed in. When kept indoors, it is best to ensure that the plant receives as much sunlight as possible. However, it has been known to do well under medium light conditions.
Care & Nutrition
Like most bamboo varieties, Giant Buddha's Belly Bamboo needs a steady diet of nutrients and plenty of water. While the plant has average water needs, it is important that it is not over-watered as this can quickly cause damage to the plant and root system. Luckily, this is rarely an issue since so many people stress their plants for water in order to achieve magnificent bellies.
In order to reach maximum growth potential, providing plenty of nutrients and regular watering (at least for the first year) will help ensure your Buddha Belly grows as fast as possible. Basically, the more nutrients and water they receive, the faster they will grow. However, when aiming for maximum growth potential, it is important to ensure that you do not over-water or over-feed.
Special Considerations
While Buddha's Belly can survive a minimum temperature of 15 degrees F, it is not recommended for areas that receive a significant amount of frost annually.
Get Your Giant Buddha's Belly Bamboo Today OR Call Kenny For A Consultation 888-784-7336