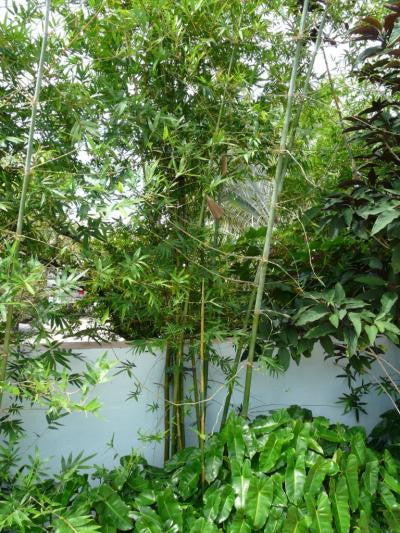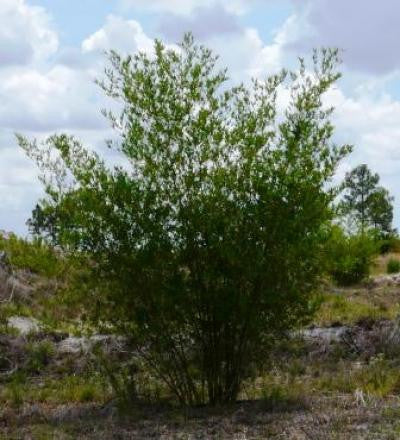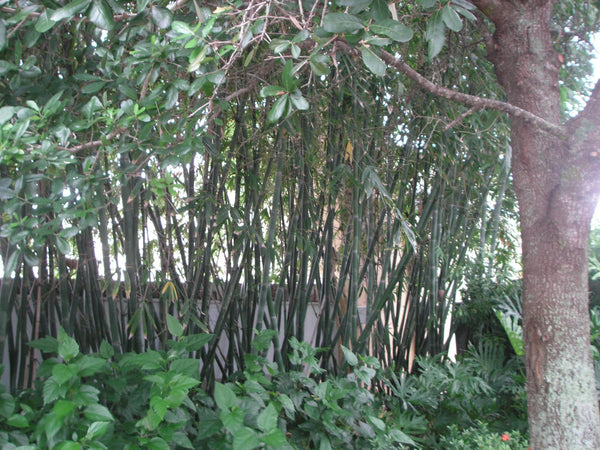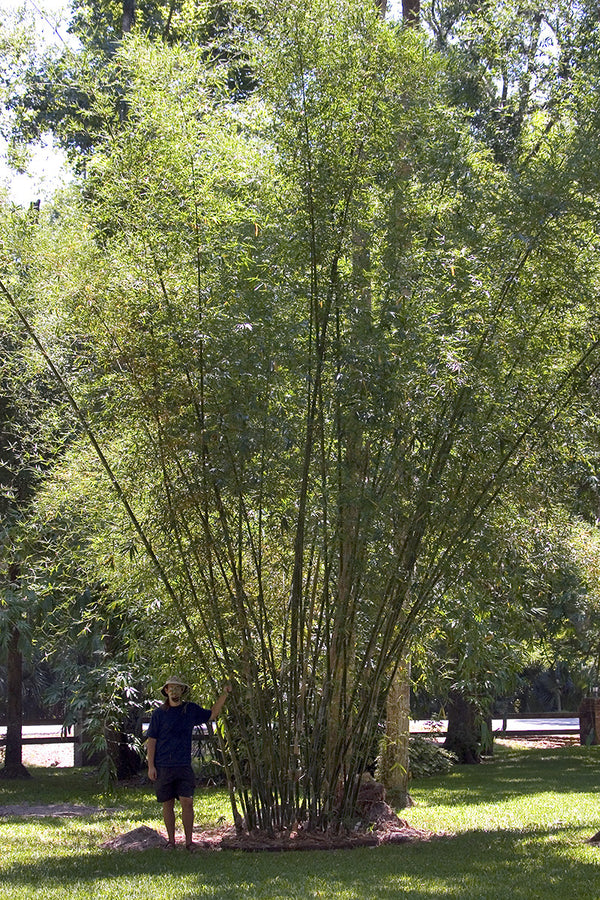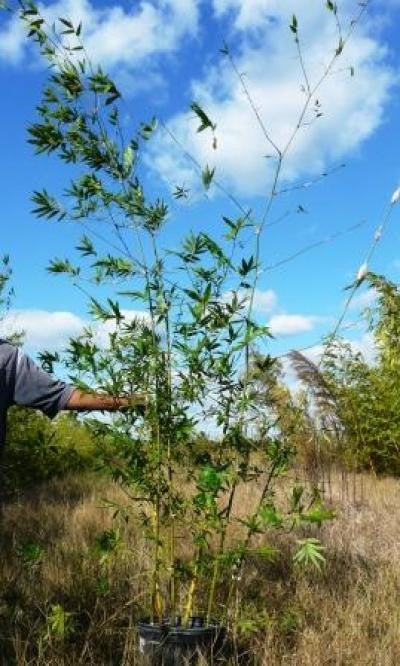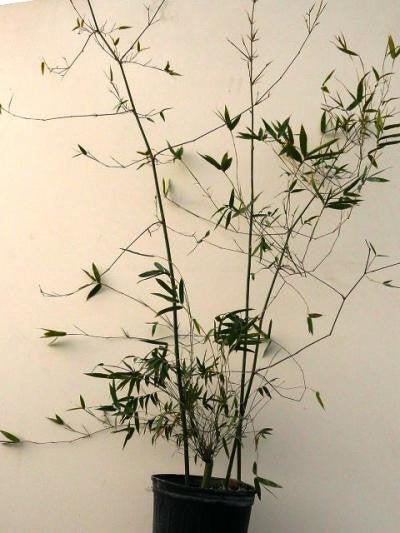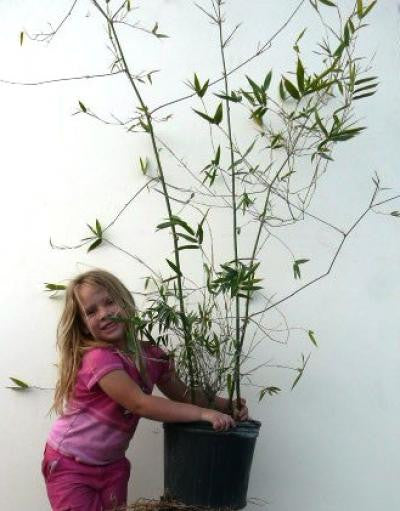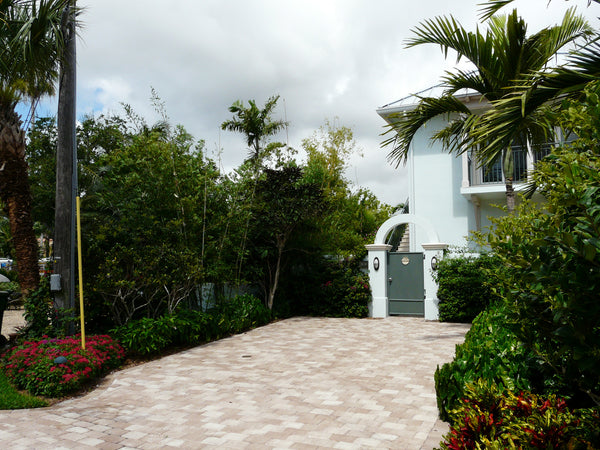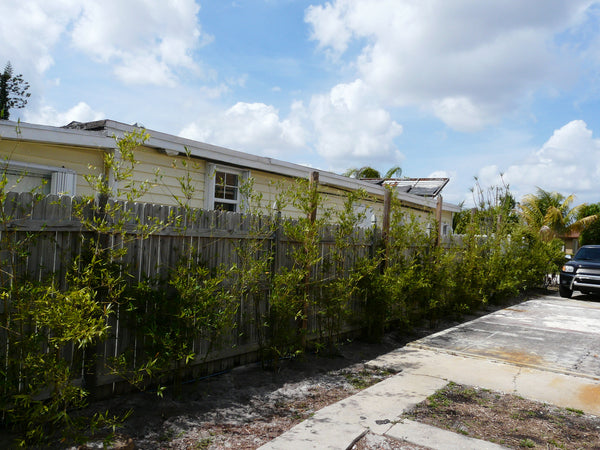 Botanical Name:  Bambusa Malingensis
Common Name:  Seabreeze Bamboo
Maximum Height:  40' (Average 30-35')
Maximum Diameter:  2.5"
Minimum Temperature:  18F 
Light:  Full sun, partial shade or light shade
Clump Size: 4-5'
Spacing: 4-6'
Water Requirements: Average. Water regularly, but don't over water.
Product size:  New crop just released! Well rooted 3 gallon potted Seabreeze bamboo plants that are now rooted and ready to shoot. Get them in the ground by spring to have 9' plants with 4-6 shoots by Thanksgiving! These plants are just about ready to shoot and are ready to thrive as soon as you plant them.
Note:  I'm having a hard time keeping these in stock so these are being sold on a first come, first served basis. These are fresh 3 gallon well rooted starter clumps. They are just starting to shoot so they don't look as large as they do at the end of the season, but they are beautiful starter plants ready to explode with new growth all spring and summer long. I do offer discounts for local pickup and orders over 100 plants.

About Seabreeze Bamboo
Native to Southern China, Seabreeze Bamboo is the grower's choice for coastal locations as well as many other areas: Southern California, Texas and Florida to start. Seabreeze not only has a higher tolerance for winds, but they are also more salt tolerant than most bamboo varieties. For a privacy screen, centerpiece or windbreak, Seabreeze is the perfect choice.
Our Florida bamboo nursery grows premium Bambusa Malingensis starters in 3 gallon pots. This amazing bamboo can shoot up to more than 40 feet when fully mature, and has a unique umbrella-like arch. While Seabreeze Bamboo does have a multitude of lateral, leafy branches, there are hardly any branches on the lower end of the culms, so that you can admire its beautiful canes.

Seabreeze is a tightly clumping, non-invasive bamboo that is great for creating privacy screens and landscaping pieces. In addition to being a hardy and thriving plant, Seabreeze is more tolerant of flooding and drought. With small dark green culms and leaves, as well as tightly formed clumps and a fine-grained wood, Seabreeze Bamboo Bambusa Malingensis is a great bamboo for a quick hedge or privacy screen. This beautiful clumping bamboo emerges with white powder blooms on green canes and quickly forms a tight, straight clump perfect in a row or as a stand alone specimen.
Within your plant's first shooting season (April - September), you can expect to see 8 foot or taller culms, provided with plenty of water and nutrients.
Uses
By and far, the absolute best use for Seabreeze Bamboo (or Bambusa Malingensis) is as a natural, living, green privacy screen. It's tightly clumping growth pattern and unique lateral branches, as well as its amazingly fast growth expectations make it the perfect choice for creating a living privacy screen for a fraction of the cost in less than 3 years.
In addition, Seabreeze Bamboo also has many other uses. From creating a private bamboo oasis, erosion control, screening and many other desirable attractions to simply having it as a standalone ornamental plant, its uses are practically endless.
Unique Attributes & Growth Expectations
Seabreeze Bamboo undoubtedly has many unique and attractive qualities. Among its top attributes are:
Its tolerance to wind, salt, drought and cold temperatures.
Its unique lateral branches that provide an amazing amount of additional screening.
Its tightly clumping growth pattern that can also serve as additional security in privacy fencing.
Its amazingly fast growth pattern.
Its medium-sized height, which reaches 35 feet on average or can easily be maintained at any level.
Its regular water needs, which means that it doesn't require as much irrigation and water control as other bamboo varieties.