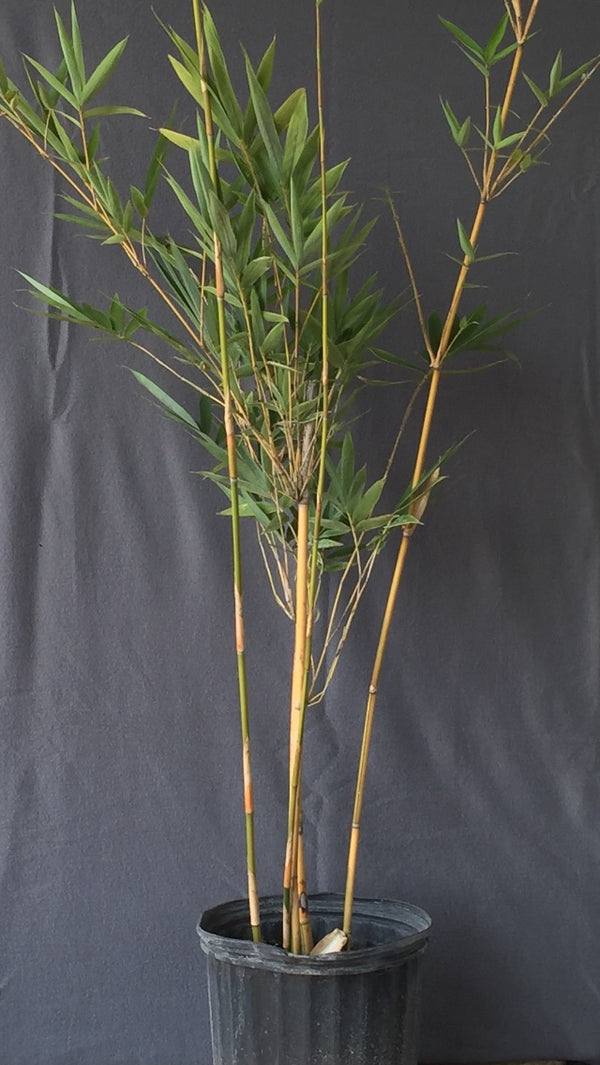 Botanical Name:  Bambusa emeiensis Flavidovirens
Common Name:  Ying Yang Yellow Stripe, Yellow Emeiensis Bamboo 
Maximum Height:  35' (Average 30-35')
Maximum Diameter:  2"
Minimum Temperature: 24F 
*Please respect the minimum temperatures. If the temps dip below the minimum temps for just a few hours the bamboo will suffer severe damage. Most importantly, it will stunt the bamboos long term growth! PLEASE order the right bamboo for your climate. Do it right the first time and you'll love the results!
Light:  Full sun, partial shade or light shade
Clump Size: 4-5'
Spacing: 4-6'
Water Requirements: Average. Water regularly, but don't over water.
Product size:  Large, well-rooted 3 gallon potted  bamboo plants that are busting out of their 3 gallon pots. These plants are just about ready to burst out of their nursery pots and are ready to thrive as soon as you plant them. (Note: Plants may be trimmed down for shipping purposes.) 
About Yin Yang Yellow Stripe Bamboo
Yellow Stripe Yin Yang Bamboo is called yin yang because it has the unique characteristic of coming out a beautiful light green with a dark green stripe, then as the bamboo ages, it becomes more and more yellow eventually maturing to a beautiful, golden yellow cane with a dark green stripe. A very unique specimen bamboo. The newest and most rare bamboo in our collection.