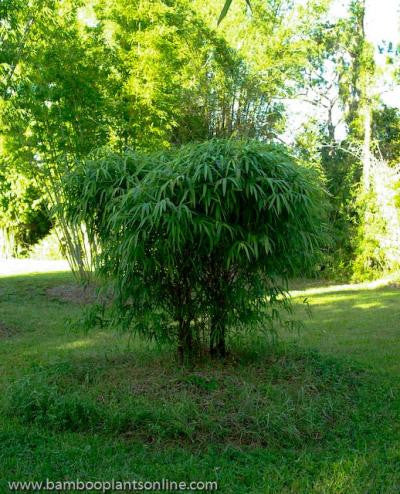 Dwarf Bamboo
Dwarf Running Bamboo can make an attractive, low maintenance ground cover, small hedge or potted plant. Dwarf bamboo have interesting leaf forms and variegation. Groundcover bamboo can be trained, mowed, and contained, just like any other grass. Buddha Belly Bamboo gets its name from its swollen internodes (the area between nodal bands).
There are several varieties of bamboo that exhibit this behavior. Some Bamboo will form buddha bellies only as a result of stress, other species will belly naturally. Please read about the different types of buddha belly bamboo, because there are key differences which make each one the best buddha belly for its specific application. Indoors, in a pot or in the landscape, we will show you the right plant for your application.
Wamin - Best buddha belly for landscapes and in ground plantings. The most Reliable Buddha Belly (Minimum Temperature 30F)
Kimmei - Yellow Buddha Belly-Great for Pots. Will Stay small and well behaved in a pot. Amazing Yellow and Green striped canes.
True Buddha Belly Ventricosa - This is the original Buddha Belly although it only will really zig zag and needs a lot of water stress to truly belly out. Ventricosa will get 50' tall if planted in ground. Great Potted Bamboo with highly adaptable light requirements.